Stanchions, Guardrails and Safety Net Systems
Permali is a global market leader in the design, manufacture and supply of
innovative composite stanchions, guardrails and deck safety net systems

for naval warships and fleet auxiliary support vessels.
Product design variations with four types of composite stanchions have been developed for quick release and manual or automated hydraulic drop-down systems, which can be deck or hull mounted. Ready to install, coated and painted deck systems are supplied complete with the metal fixtures for the type of composite stanchion specified, plus the guard railing or netting.
Warship Armour Systems
The company has a strong
80 year heritage and global reputation

across all three Defence sectors for supplying

MOD approved composite material solutions to protect NATO forces from ballistic weapons and land mines

.
Permali's proven ballistic and spall protection design and manufacturing expertise has been applied to produce naval composite armour systems.
Custom designed Permaglass® solid laminate and light weight anti-ballistic composite sandwich panels, with balsa and foam cored products, are specified on warships for a variety of applications including: minor internal bulkhead panels; ballistic protection of explosives and munitions; weapon position spall liners behind steel bulwarks.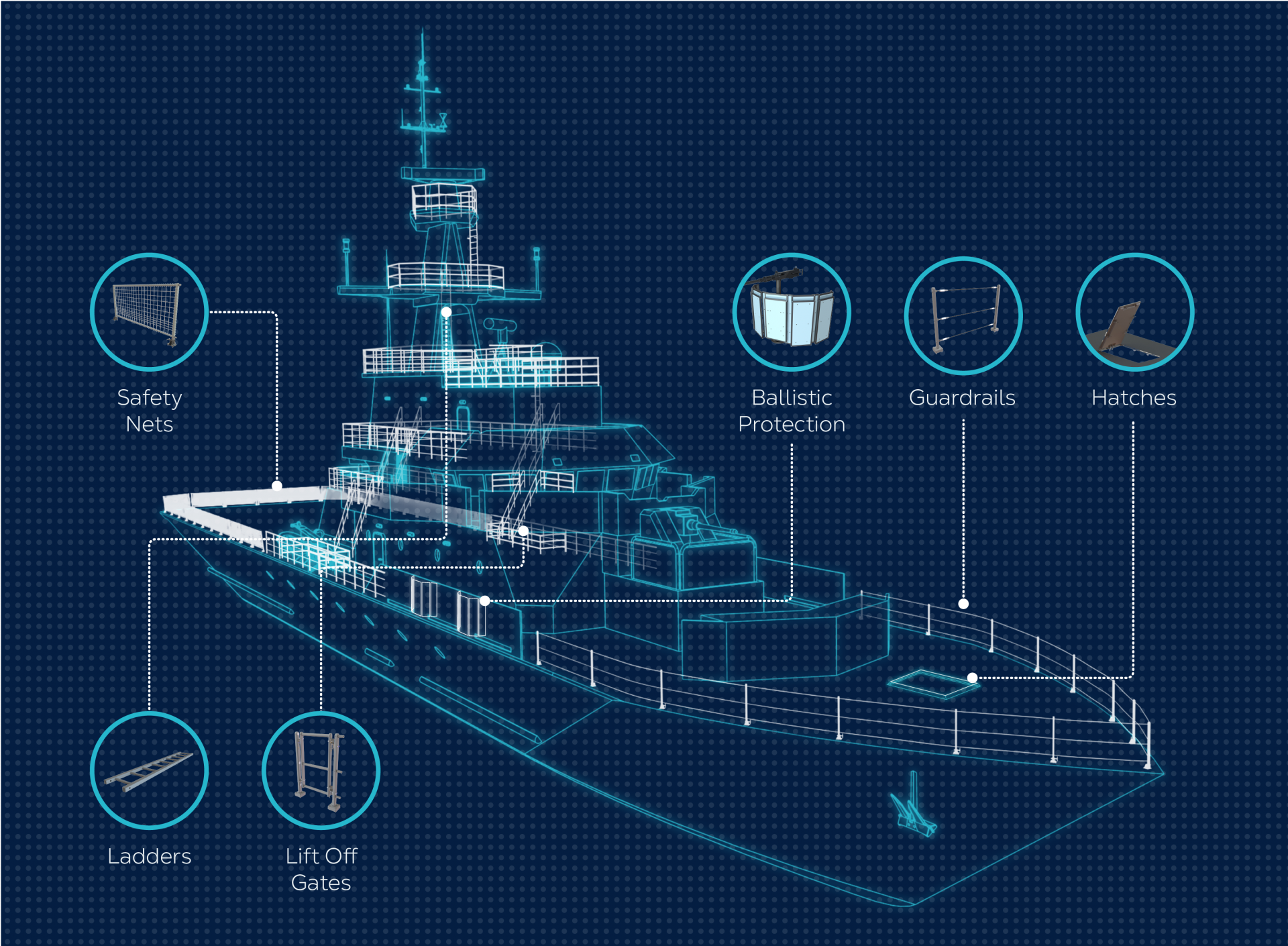 Global Use
The Royal Navy (RN) and many other navy fleets
trust Permali anti-ballistic and anti-spall panels and deck guardrail and safety net systems

to protect crew members and equipment.
Naval vessels in service around the world fitted out with Permali protection and safety products include: aircraft carriers, helicopter carriers, corvettes, frigates, destroyers, coastal patrol boats and minesweepers.
NPD Design Service
Permali provides a
full new product development (NPD) service

, which can rapidly design and test new products for naval vessels.
Bespoke solutions are developed, adapting products to meet specific application requirements.
The R & D, design and process engineering teams have extensive experience in working under pressure with defence sector OEMs. Permali has demonstrated its added value to customers by accelerating NPD projects using its pilot plant facilities, carrying out in-house fire and material properties testing and providing prototypes in short lead times.
All Permali products for naval warship and support vessel applications are UK MOD approved and rigorously tested to ensure that they meet specified IMO, DNV and Lloyds register regulatory standards.